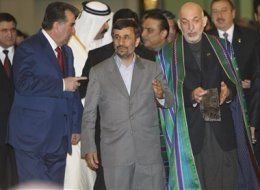 Why should Iran respond in kind? That's not a given, simply because the Americans now have been suddenly enlightened and feel vindicated through Obama's victory in the election. What about the American intervention dating all the way back even before Shah's time:
http://en.wikipedia.org/wiki/American_intervention_in_the_Middle_East#Iran
:_The_first_U.S._intervention_in_the_Middle_East_after_World_War_II
http://en.wikipedia.org/wiki/Truman_Doctrine
Now, suddenly, with no deference to the past, the Iranians should accept the olive branch? I think not.
About Barack Obama
Read the Article at HuffingtonPost