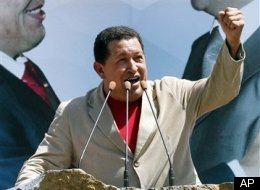 Obfuscation, detraction, hate-mongering, demeaning and self-aggrandizing are a few tried and tested arrows in the A/PAC quiver to marginalize anyone who dare speak against them!
Ask JerryLevy or yankees if they ever mourned or even protested the death of Rachel Corrie (
http://www.rachelcorrie.org/
), who was run over alive by an Israe/i bulldozer? Or for that matter, A/PAC's condemnation of that vi/e and unforgivable act.
Regardless of Chavez's political proclivity, it doesn't negate the fact that he spoke the truth. The j00s-$hit-­don't-St/n­k crowd needs to acknowledge the ground reality - at least once!
About Israel
Read the Article at HuffingtonPost