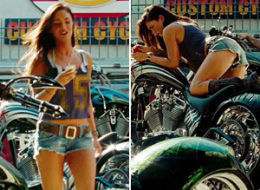 While we're on this subject of sexism, who are the consumers of women's magazines (you know the ones where the cover highlights "do this to cause that in his pants", etc., etc.). Every single one of those magazines, IMO, cheapen women by focusing so much on what women should do to please men. From advice columns, advertisement, to the review of makeup, clothes and even horoscopes that are focused like a laser beam on the day-to-day insecurities of young and impressionable women.
Yes, guys love beautiful bare nekkid ladies - no doubt there, we're all guilty as charged! However, the ladies can't claim immunity from sexism either so long as they continue to consume the over hyped commercialism of sexuality in the shimmering pages of Cosmo and Marie Claire!
I'm not suggesting y'all start reading Popular Mechanics and start wearing dungarees, but change must come by and for the ladies in the MSM!
About Video
Read the Article at HuffingtonPost