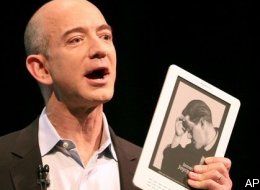 Well, the publishers simply need to get with the 21st Century. Though I'm not a big fan of Kindle, it does offer; a widely distributed, highly usable, ample battery-life, over-the-air connected and ergonomically useful platform for converting Schoolbooks.
I believe that's the next frontier for Kindle, allowing students to carry something very portable. It's a perfect way to help the environment by not publishing millions of books that have a shelf life of roughly one year. Further, updates to the curriculum could be made over-the-air by each school district - securely, while reducing the overall cost of procurement and storage footprint.
Last but not least, we just might eradicate Scoliosis in our younger generation by eliminating the 40lb backpack!
Read the Article at HuffingtonPost