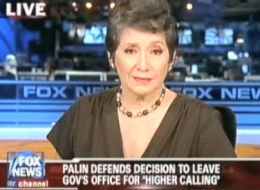 Under education doesn't implicate non-Ivy league schools, it is exactly what she meant - under education, regardless of her alma matter! In her case, she isn't even fit to be a kindergarten teacher: From her Wiki:
"After graduating from high school in 1982, she enrolled at Hawaii Pacific College in Honolulu. She left after one semester and transferred to North Idaho College, a community college in Coeur d'Alene and spent two semesters as a general studies major in 1983. In 1984, Palin won the Miss Wasilla Pageant, then finished third in the 1984 Miss Alaska pageant and won a college scholarship and the "Miss Congeniality" award.
In August 1984, she transferred to the University of Idaho in Moscow, Idaho, where her older brother, Charles W. Heath, was majoring in education. After two semesters at UI, Palin returned to Alaska and attended Matanuska-Susitna College, a community college in Palmer, for one term in the fall of 1985. She returned to the University of Idaho in January 1986, where she spent three semesters completing her bachelor's degree in communications-journalism, graduating in May 1987."
About Sarah Palin
Read the Article at HuffingtonPost